RAW

Barbell Club : FREE Program Library
Hi this is Andy from RAW Barbell Club. I love training, I love coaching but most of all I love helping people get strong. I hate that finding a good program to follow can be super challenging so I thought I'd slowly build this repository for some program that I think you guys would find helpful. I will be adding more over the current months so let me know if there is something in particular you would like to see.
If you do use one of these programs please do me a favour and let me know how you go. please share it on social media and help us reach more people.
Now lets go get strong!!!!
---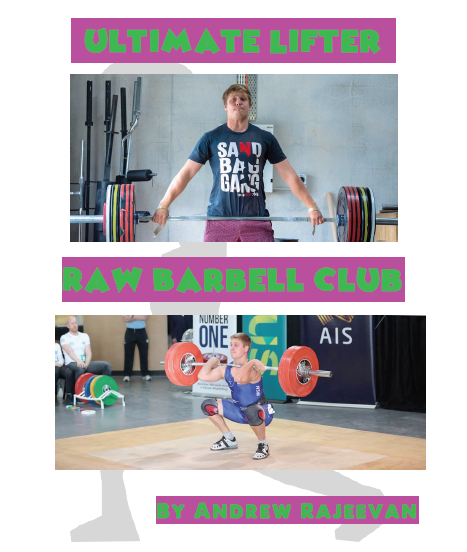 There are so many coaches out there writing extremely complicated programs. I know because I'm one of them. But progress isn't defined by how fancy your program is. It's actually reflected through your results. Every single person that I've put through this program has made significant gainz in strength. I've seen massive increases in Olympic totals and best of all, I've witnessed all of this with minimal injuries. This is a very go-at-your-own-pace program. For the most part you decide how heavy you go and because of that, you and your coach can easily modify technique and intensity throughout the cycle. There are actually 2 programs attached one for those training 3-4 days per week and one for those training 5-6 days per week. We Recommend this program for all levels of lifting
Sample Pages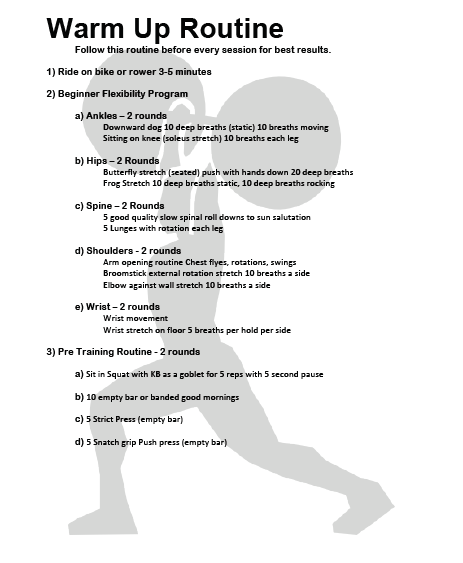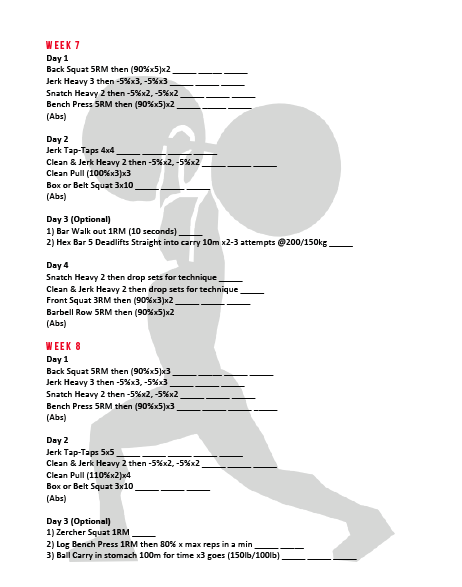 ---
In this program we take you through a type of squat program that we wrote for some of our CrossFit athletes. I have used variations of this program with great success for a lot of my CrossFitters, especially those that didn't want to give up their WOD's in order to get stronger. Recovery is always your limiting factor when you are trying to work on dual modalities (fitness & strength). There is a built in way to track whether you are making progress, by calculating your predicted 1RM. As long as this is stable or moving upwards everything is good and you are doing a good amount of work! (2 Days of Squatting per week) – Recommended for any Level of Lifting
Sample Pages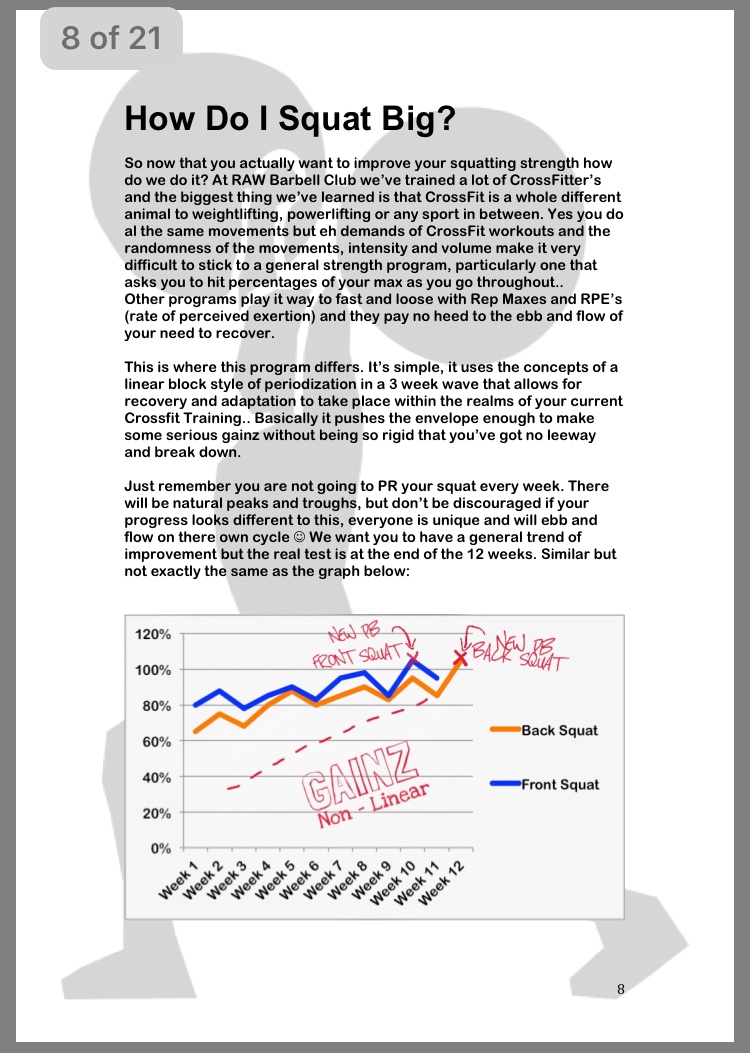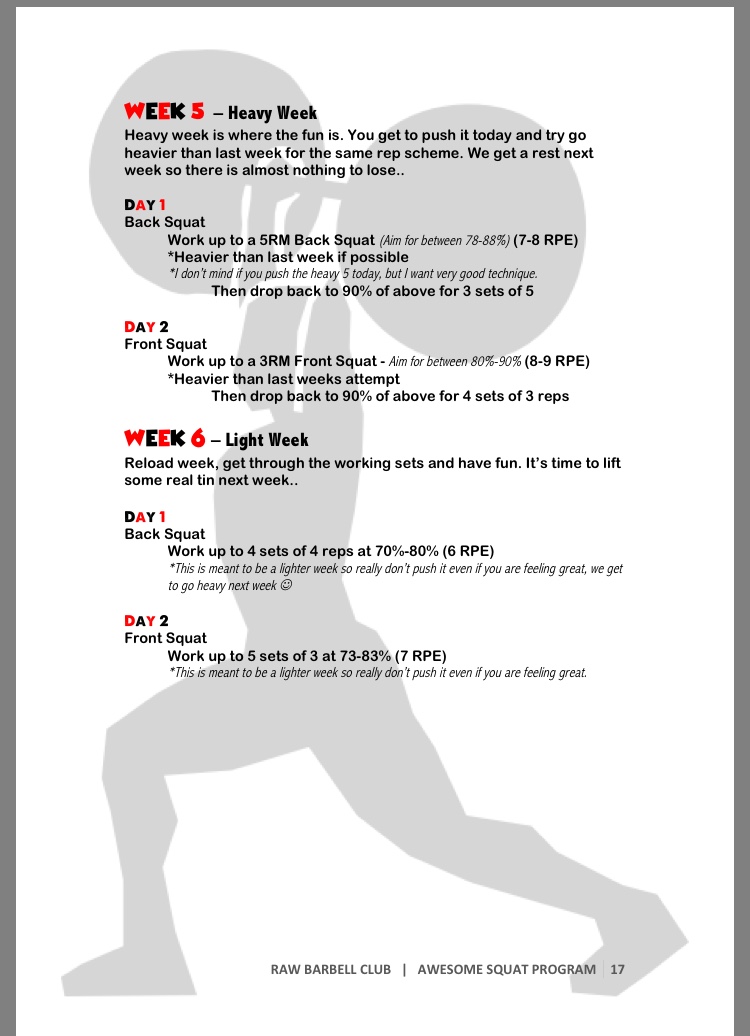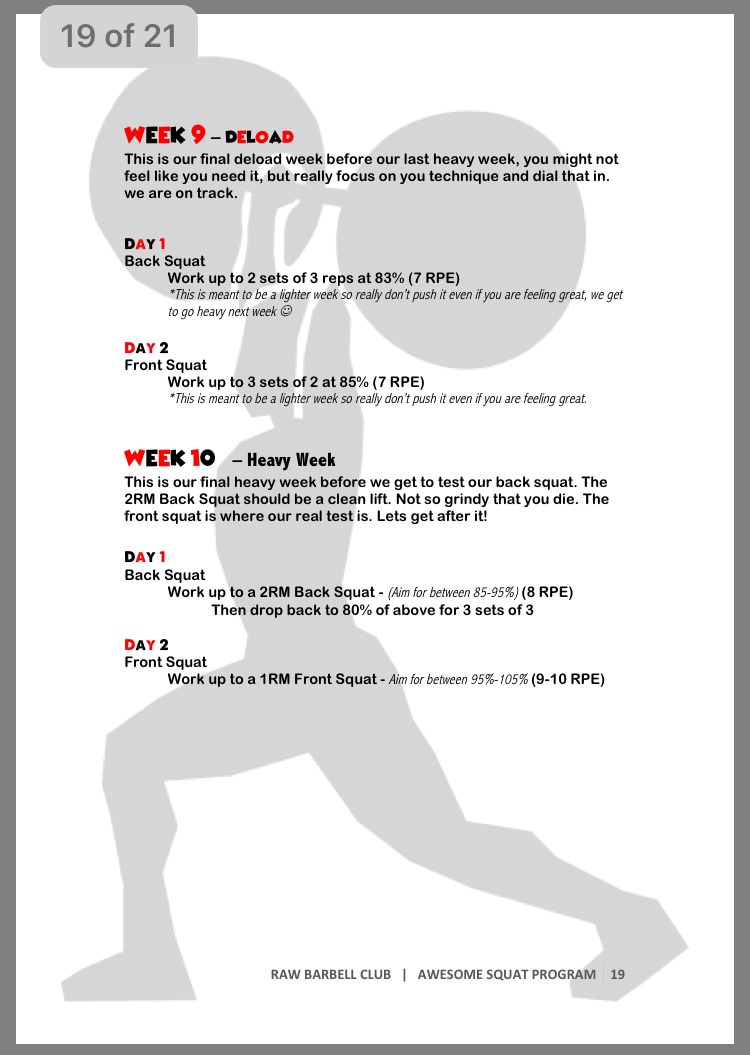 ---

I love the feel of bands and chains on a bar, heavy weights and varying stimulus. It's no wonder I eventually stumble onto the teachings of Louie Simmons from Westside Barbell. In this program we run through 13 weeks of hard training. We used this cycle with a bunch of our RAW Weightlifting Team members as well as Crossfitters to get them amazing results!
(6 Days of Training Per Week) – Recommended for Advanced Lifters
Sample Pages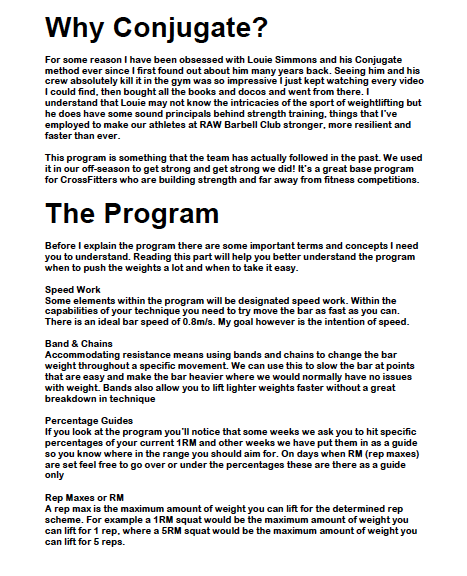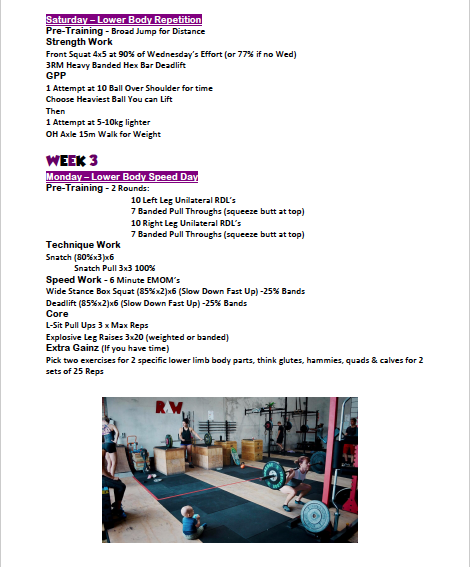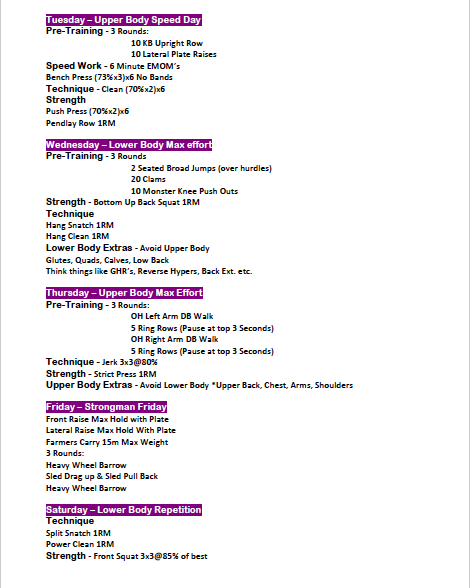 ---
In this program we take you through a very successful strength cycle we ran for our weightlifting team. The program is tough and you will need to be disciplined and smart to manage your own training volume. The Strength is programmed in three week waves following a simple 5/3/1 paradigm whilst the weightlifting movements peak in the down weeks of strength. There is an attached accessory program which is balanced for our team, but feel free to swap them out to balance your own weaknesses. Be smart and take care!
12 weeks of Training 5 Days Per Week – Reccommended for Intermediate to Advanced Lifters (this is our current cycle and only the first 4 weeks are available for free.
Sample Pages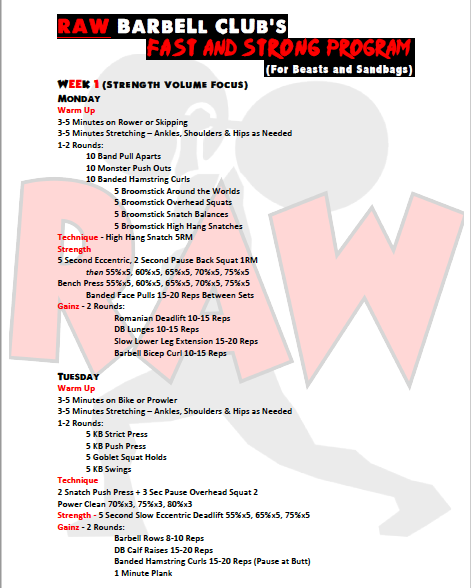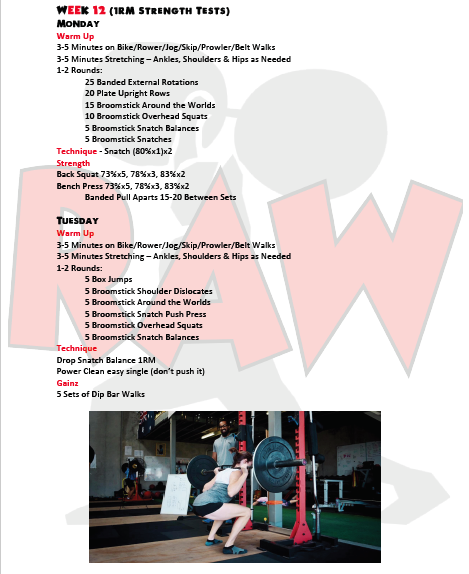 ---
UA-77413025-1