In Ep 27 of RAW Barbell Club Podcast Pip Malone and Andy talk about her long history in competing in elite sports. Her career spans from Elite Gymnastics to the CrossFit Games, all the way to making it to the Commonwealth Games in Olympic Weightlifting.
---
Want to help us keep making these podcasts?
Making this weekly podcast is fun but it does cost money! From Bandwidth fees, travel, hosting costs and equipment, even the smallest donation goes a long way to helping to improve the show!
All we're asking for is the cost of a coffee! We'll make sure to give you a shout out on our podcast and put you on our NEW donors page!
Your Generosity Keeps The Podcast Coming!
---
When Competing is Life
Elite Gymnast, White Water Rower, 2x CrossFit Games Competitor & Commonwealth Games Weightlifter
with Pip Malone
RAW Barbell Club Podcast
Episode 27
Pip Malone is a stone cold Athlete. I think that if she applied herself to any sport within a year or two she'd get herself to the top. Pip has just competed in Olympic Weightlifting at the 2018 Commonwealth Games for Australia where she finished 5th and only 1kg under her all time competition best of 210kg.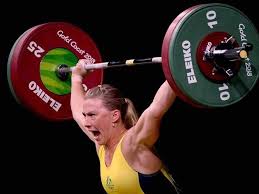 In this episode I talk to Pip about her long career in elite sport, from Gymnastics and Crossfit all the way to white water rowing and lifting. We talk about her personal life and her studies of criminology and psychology and her thoughts on sports and how they run!
Big congratulations to Pip, and I look forward to seeing her make a run for the 2020 Olympics!
Thanks Pip for joining me this week!
Follow Pip Malone and his journey on Instagram @pip_malone, Facebook @phillipa.pip.malone and Twitter @phillipakate89
RAW Barbell Club Podcast – Episode 27
Podcast: Play in new window | Download
Subscribe: Google Podcasts | Email | RSS
Loved this Episode?
Share it!
Ask us a question!
---