In Ep 28 of the RAW Barbell Club Podcast I sit down with your 2018 Commonwealth Games under 90kg Silver Medalist Kaitlyn Fassina. This recording took place a few weeks before her competition so it outlines her progress up to her leaving to the comm games.
---
Want to help us keep making these podcasts?
Making this weekly podcast is fun but it does cost money! From Bandwidth fees, travel, hosting costs and equipment, even the smallest donation goes a long way to helping to improve the show!
All we're asking for is the cost of a coffee! We'll make sure to give you a shout out on our podcast and put you on our NEW donors page!
Your Generosity Keeps The Podcast Coming!
---
2018 Commonwealth Games Silver Medalist
Stories From a Champ in the Making:
Setbacks, Triumphs and all the In-Betweens
with Kaitlyn Fassina
RAW Barbell Club Podcast
Episode 28
Wow, I can't believe the Commonwealth Games are over. I'm still buzzing from the excitement seeing all our Aussie athletes kill it on the platform. Especially our 3 medalist Tia, Kaitlyn and Francois! On today's episode of the podcast I sit down with your under 90kg Commonwealth Games Silver Medalist Kaitlyn Fassina.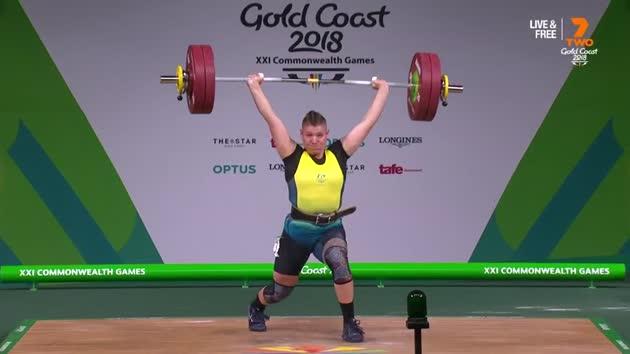 This Podcast was recorded a few weeks prior to Kaity going to the games and it documents her prep leading up to the comm games. Before I go into things I want to give her a big congratulations on her performance!
We dive into all things from Kaity's past including her roots in swimming, which she had to give up due to Glandular Fever, having a baby and the toll that took on her training. We talk about habits and superstitions that lifters pick up over time, and how to train during and post pregnancy.
She even tells me a crazy story about the time she almost got mobbed in Kazakhstan for turning down a random proposal!
Thanks Kaity for joining me this week!
Follow Kaity and her journey Instagram @kaity.fassina_weightlifter
And Check out Leo's (her coach) Gym – The Weightlifting Academy of Tasmania
RAW Barbell Club Podcast – Episode 28
Podcast: Play in new window | Download
Subscribe: Google Podcasts | Email | RSS
Loved this Episode?
Share it!
Ask us a question!
---