In Ep 31 of the RAW Barbell Club Podcast I sit down with Deborah 'Lovely' Acason. Deb is a veteran of the sport. These 2018 Commonwealth Games would be her 5th Appearance! On top of this she has competed in multiple sports as well as the Olympics!
---
Want to help us keep making these podcasts?
Making this weekly podcast is fun but it does cost money! From Bandwidth fees, travel, hosting costs and equipment, even the smallest donation goes a long way to helping to improve the show!
All we're asking for is the cost of a coffee! We'll make sure to give you a shout out on our podcast and put you on our NEW donors page!
Your Generosity Keeps The Podcast Coming!
---
A Storied Career In Weightlifting
With 5 Time Commonwealth Games Athlete & Olympian
Deborah 'Lovely' Acason
RAW Barbell Club Podcast
Episode 31

Deborah Lovely Acason is probably the most accomplished, most experienced and most decorated athlete in our Commonwealth Games Line-up. Deborah is a two time Olympian (Athens, 2004 & Beijing, 2008) and a five times Commonwealth Games Athlete, winning Silver in Manchester (2002), gold in Melbourne (2006), bronze in Delhi (2010), and coming fourth in both Glasgow (2014) and the Gold Coast (2018).
Starting the sport as a way of training strength for her throwing Deborah showed that she had a great potential for the sport of weightlifting. Obviously a powerhouse her and her coach quickly found that she was just as at home throwing a bar over her head as she was on the field. Over the course of her career, there have been many ups and downs including injuries, set-backs and even some time in competitive cycling.
As often in phone interviews. We take a while to warm up into conversation, but once we do actually get a back and forth going I think you guys will love the end result.
Gc2018 is Debs fifth ever commonwealth games. Well Done Deb!!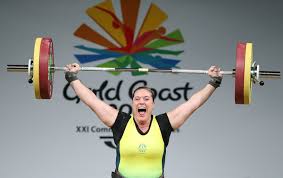 Thanks Deb for joining me this week!
Follow Deborah and her journey on Instagram @deblovelyacason
RAW Barbell Club Podcast – Episode 31

Podcast: Play in new window | Download
Subscribe: Google Podcasts | Email | RSS
Loved this Episode?
Share it!
Ask us a question!
---


---