In Ep 36 of the RAW Barbell Club Podcast get to chat with Stuart Cooke, The co-founder of 180 Nutrition. He is the host of the awesome 180 nutrition podcast, interviewing the likes of Wim Hof, Kelly Starrett and so many more. He is a wealth of information!
---
Want to help us keep making these podcasts?
Making this weekly podcast is fun but it does cost money! From Bandwidth fees, travel, hosting costs and equipment, even the smallest donation goes a long way to helping to improve the show!
All we're asking for is the cost of a coffee! We'll make sure to give you a shout out on our podcast and put you on our NEW donors page!
Your Generosity Keeps The Podcast Coming!
---
Three Pillars of Health

Mindset, Nutrition & Sleep

with Stuart Cooke
RAW Barbell Club Podcast
Episode 36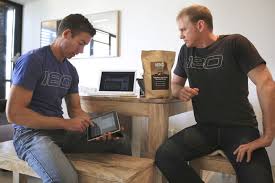 In 2010 Stuart Cooke & Guy Lawrence launched 180 Nutrition, a supplement company with it's ingredients in it's name: one serving of protein, eight natural ingredients, and zero preservatives. Fast forward to 2018 and the company has grown into one of the biggest online nutrition businesses in Australia, and has expanded overseas as well.
On top of this both of these guys are insanely knowledgeable and run a really cool podcast with some amazing guests like Kelly Starrett, Brian Mackenzie, Wim Hof, Dominic D'agostino, Laird Hamilton and so many more.
In our interview we talk about starting their company, growing it to the level it's at and how they've done it through social media.
Stuart talks about his model for optimal health, including his "Three Pillars of Health" which include Mindset, Nutrition & Sleep.
Thanks Stuart for joining me this week!
You can find out more about 180 Nutrition from:
The Website – www.180nutrition.com.au
The Podcast – 180 Nutrition Podcast
180 Facebook – @180nutrition
Instagram – @180nutrition
RAW Barbell Club Podcast – Episode 35

Podcast: Play in new window | Download
Subscribe: Google Podcasts | Email | RSS
Loved this Episode?
Share it!
Ask us a question!
---


---