Entries Open: 2017 Australian Weightlifting Federation

National Championships
Entries Open: 2017 Australian Weightlifting Federation National Championships
Entries open: 2017 Australian Weightlifting Federation National championships. Both the Senior and Junior National Championships look like they are going to be a blast. If it's anything like last year or even the Australian Open we were at a few weeks back you are in for a treat. If you are in Tassie or were waiting for a reason to book your next Tassie Trip, it's time to do so! If you are a competitor who has hit the qualifying totals – within the qualifying periods set by the Australian Weightlifting Federation (AWF), You can now register.
You can register for both the Senior and Junior Championships with your club through your State body. For example, a lifter that is registered with RAW Barbell Club can register through New South Wales Weightlifting Association (NSWWA). All clubs should have the relevant forms. If you don't just ask Linda from NSWWA or ask me and I'll intro you to her ☺
The Qualifying period is 5th August, 2016 – 9th April, 2017. Unfortunately if you live in NSW your last chance to qualify is the NSW State Championships that is next week (8/04/17).
If you are curious about what you needed to hit to qualify this year or you want to set a goal for next year check out this table below.
AWF Senior National Championship Qualification Table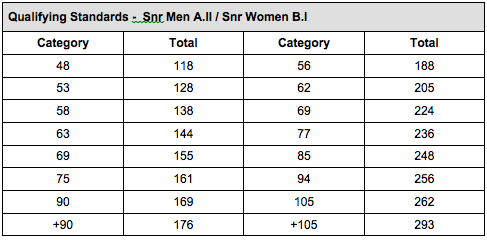 If you are a young 'tike', ie. Born between 1997 and 2004 you can qualify as a junior lifter. Which has a lower qualification standard.
AWF Junior National Championship Qualification Table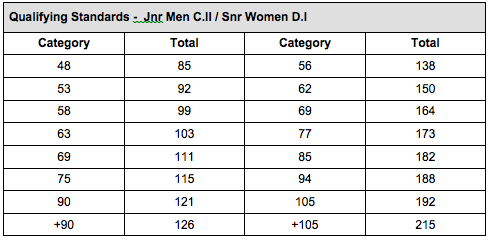 The 2017 AWF National Championships will take place in Hobart, Tasmania between the 2nd and 4th of June.
Competition Venue: Royal Hobart Showgrounds, Grandstand Hall,
Howard Rd, Glenorchy, Tasmania
Just remember that Your entry form and payment must be submitted to the AWF no later than Monday the 10th of April 2017. (this must be done through your State Association so get in quick)
Hopefully you'll see some Sandbags in Tassie!! Come say Hi 😀
-Andy
---

---
[mailmunch-form id="415919″]