Powerlifting Australia 2017
Should you compete in Powerlifting?
Powerlifting like weightlifting is a strength sport. Whilst weightlifting showcases an athletes speed and athleticism with a bar over two events, Powerlifting focuses on absolute strength. That is, how much you can lift to the utmost extremes of your capacity in three distinct events the Squat, Bench Press and Deadlift. So should you compete in Powerlifting Australia? Find out below!
If you would like to learn more about Powerlifting click HERE.
---
– – – > > > Learn About Powerlifting < < < – – –
---

Powerlifting is an awesome sport and very welcoming to new athletes! Quite often we find that newer athletes who have participated in other sports and disciplines excel at powerlifting very quickly. Though true strength take years to achieve, powerlifting is a sport that provides a high dose of bang for your buck progress!
Grading & Qualifying
Because of the way the International Powerlifting Federation has set up it's grading it is very achievable to strive to compete at a National, Oceania, Commonwealth or even Worlds level event. If you can total B grade you have a chance to compete at a national level. (that is pretty cool)
Powerlifting Australia Qualification Standards

If you have dreams and goals competing at higher levels check out this chart below to see how you stand up against the grading scheme for example you would need to hit a 'B' Grade total to qualify for Australian Championships (nationals).
Powerlifting Australia Grading Chart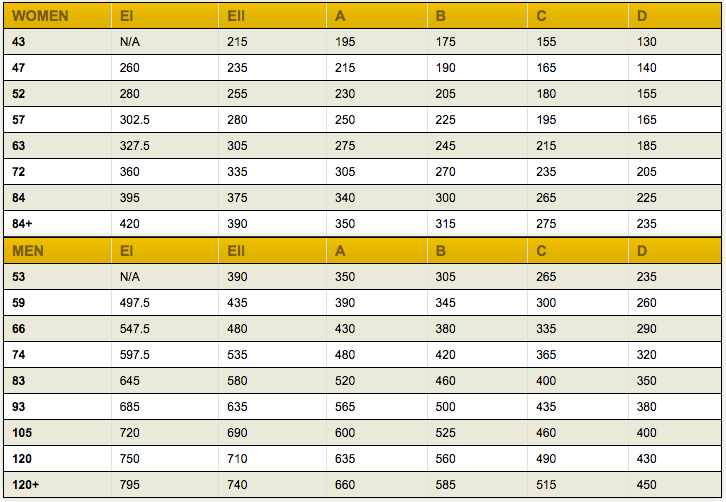 To read the chart you need to first calculate your 'total' a total is the sum of scores you achieved in the three events; the Squat, the Bench Press and the Deadlift. An example of this is a lifter who weighs into the competition at the under 74kg category he squats 140kg, benches 100kg, and deadlifts 180kg. His total would then be 420kg, an accumulation of his three scores. This registers as a 'B' grade on the above chart. As the 'B' grade is what qualifies a lifter for the Australian championships this qualifies the lifter to participate at the said event.
Powerlifting Australia 2017 Calendar
Unlike the Australian weightlifting federation that releases its entire calendar for the year in advance Powerlifting Australia prefers to publise only immediate competitions as well as national and international events. Frequently adding local competitions the federation keeps itself flexible to keep pace with the ridiculous growth the sport has seen in the last few years.
Anyway the big events are as follows:
---
National Competitions
Junior/Masters Australian National Championships: August

Qualification Masters must have totaled
Open Australian National Championships: 13-15 October
Melbourne, VIC
Australian Masters Games: 27-28 October
Ulverstone, TAS
Qualification Masters must have totaled
---
International Competitions
World Powerlifting Championships: 14-15 June
Minsk, Belarus
Qualification Elite II (EII)
Commonwealth Championships: 10-17 September
Potchefstroom, South Africa
---
Check out the link below to see the full (at least whats been put up) 2017 Calendar.
---
– – – > > > 2017 Australian Powerlifting  Calendar < < < – – –
---
 If you would like to know more about Powerlifting Australia and registering with the IPF Check out their website.
---
– – – > > > PowerliftingAustralia Website < < < – – –
---

---
[mailmunch-form id="415919″]